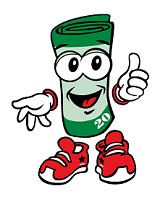 Prize Details
Game Prizes (30): Each Game prize is a $250 StubHub gift card. ARV of each Game Prize is $250.

GAMEDAY Prize (1): a trip for two people – winner and one guest who is at least twenty-one years old – to a state that has a professional football team (Arizona, California, Colorado, Florida, Georgia, Illinois, Indiana, Louisiana, Maryland, Massachusetts, Michigan, Minnesota, Missouri, Nevada, New York, New Jersey North Carolina, Ohio, Pennsylvania, Tennessee, Texas, Washington, or Wisconsin) to attend a regular-season professional football game of winner's choosing. ARV of the GAMEDAY Prize is $3,000.

BLITZ Prizes (2 total): The following prizes are available for the Keyword BLITZ:
BLITZ Prize 1 (1): a Solo Stove. ARV of the BLITZ Prize 1 is $280.
BLITZ Prize 2 (1): a $250 StubHub gift card. ARV of the BLITZ Prize 2 is $250.

DEFENSE Prizes (4 total, 2 for Entry Period 1, 2 for Entry Period 3): Each "DEFENSE Prize" is a $250 StubHub gift card. ARV of each DEFENSE Prize is $250.

FIELDGOAL Prizes (2 total): The following prizes are available for the Keyword FIELDGOAL:
FIELDGOAL Prize 1 (1): a Solo Stove. ARV of the FIELDGOAL Prize 1 is $280.
FIELDGOAL Prize 2 (1): a $250 StubHub gift card. ARV of the FIELDGOAL Prize 2 is $250.

FOOTBALL Prizes (10 total, 3 for each of Entry Periods 1 and 2, 4 for Entry Period 3): Each "FOOTBALL Prize" is a $250 StubHub gift card. ARV of each FOOTBALL Prize is $250.

GAMEPLAN Prizes (4 total, 1 for each of Entry Periods 1 and 2, 2 for Entry Period 3): Each "GAMEPLAN Prize" is a $250 StubHub gift card. ARV of each FOOTBALL Prize is $250.

HAILMARY Prize (1): a trip for two people – winner and one guest who is at least twenty-one years old – to a to a state that has a professional football team (Arizona, California, Colorado, Florida, Georgia, Illinois, Indiana, Louisiana, Maryland, Massachusetts, Michigan, Minnesota, Missouri, Nevada, New York, New Jersey North Carolina, Ohio, Pennsylvania, Tennessee, Texas, Washington, or Wisconsin) to attend a regular-season professional football game of winner's choosing. ARV of the HAILMARY Prize is $3,000.

HALFTIME Prizes (2 total, 1 for each of Entry Periods 1 and 3): Each "HALFTIME Prize" is a $500 StubHub gift card. ARV of each DEFENSE Prize is $500.

HUDDLE Prizes (2 total): The following prizes are available for the Keyword HUDDLE:
HUDDLE Prize 1 (1): a Solo Stove. ARV of the HUDDLE Prize 1 is $280.
HUDDLE Prize 2 (1): a $250 StubHub gift card. ARV of the HUDDLE Prize 2 is $250.

KICKOFF Prizes (2 total): The following prizes are available for the Keyword KICKOFF:
KICKOFF Prize 1 (1): a Solo Stove. ARV of the KICKOFF Prize 1 is $280.
KICKOFF Prize 2 (1): a $250 StubHub gift card. ARV of the KICKOFF Prize 2 is $250.

OFFENSE Prizes (4 total, 1 for each of Entry Periods 1 and 2, 2 for Entry Period 3): Each "OFFENSE Prize" is a $250 StubHub gift card. ARV of each OFFENSE Prize is $250.

PASS Prizes (8 total, 2 for Entry Period 1, and 3 for each of Entry Periods 2 and 3): Each "PASS Prize" is a $250 StubHub gift card. ARV of each PASS Prize is $250.

PIGSKIN Prizes (15 total, 5 per Entry Period): Each "PIGSKIN Prize" is a $250 StubHub gift card. ARV of each PIGSKIN Prize is $250.

REDZONE Prize (1): a trip for two people – winner and one guest who is at least twenty-one years old – to has a professional football team (Arizona, California, Colorado, Florida, Georgia, Illinois, Indiana, Louisiana, Maryland, Massachusetts, Michigan, Minnesota, Missouri, Nevada, New York, New Jersey, North Carolina, Ohio, Pennsylvania, Tennessee, Texas, Washington, or Wisconsin) to attend a regular-season professional football game of winner's choosing. ARV of the REDZONE Prize is $3,000.

REPLAY Prizes (15 total, 5 per Entry Period): Each "REPLAY Prize" is a $250 StubHub gift card. ARV of each REPLAY Prize is $250.

RUSH Prizes (2 total, 1 in each of Entry Periods 1 and 3): The following prizes are available for the Keyword RUSH:
RUSH Prize 1 (1): a Minnesota autographed jersey (style and player determined by Sponsor in its sole discretion). ARV of the RUSH Prize 1 is $300.
RUSH Prize 2 (1): a soft-sided cooler. ARV of RUSH Prize 2 is $300.

SCORE Prizes (4 total, 2 for Entry Period 1, 2 for Entry Period 3): Each "SCORE Prize" is a $250 StubHub gift card. ARV of each SCORE Prize is $250.

SCOREBIG Prizes (16 total, 5 in each of Entry Periods 1 and 2, 6 in Entry Period 3): Each "SCOREBIG Prize" is a $250 StubHub gift card. ARV of each SCOREBIG Prize is $250.

SPIKE Prizes (8 total, 2 for Entry Period 1, and 3 for each of Entry Periods 2 and 3): Each "SPIKE Prize" is a $250 StubHub gift card. ARV of each SPIKE Prize is $250.

TACKLE Prizes (4 total, 1 for each of Entry Periods 1 and 2, 2 for Entry Period 3): Each "TACKLE Prize" is a $250 StubHub gift card. ARV of each TACKLE Prize is $250.

TOUCHDOWN Prizes (2 total): The following prizes are available for the Keyword TOUCHDOWN:
TOUCHDOWN Prize 1 (1): a Solo Stove. ARV of the TOUCHDOWN Prize 1 is $280.
TOUCHDOWN Prize 2 (1): a $250 StubHub gift card. ARV of the TOUCHDOWN Prize 2 is $250.

YARDLINE Prizes (2 total): The following prizes are available for the Keyword YARDLINE:
YARDLINE Prize 1 (1): a Minnesota autographed jersey. ARV of the YARDLINE Prize 1 is $300.
YARDLINE Prize 2 (1): a cooler. ARV of the YARDLINE Prize 2 is $300.

PASS & SPIKE Prize (1): a trip for two people – winner and one guest who is at least twenty-one years old – to a has a professional football team (Arizona, California, Colorado, Florida, Georgia, Illinois, Indiana, Louisiana, Maryland, Massachusetts, Michigan, Minnesota, Missouri, Nevada, New York, New Jersey, North Carolina, Ohio, Pennsylvania, Tennessee, Texas, Washington, or Wisconsin) to attend a regular-season professional football game of winner's choosing. ARV of the PASS & SPIKE Prize is $3,000.

PIGSKIN & REPLAY Prize (1): a trip for two people – winner and one guest who is at least twenty-one years old – to a has a professional football team (Arizona, California, Colorado, Florida, Georgia, Illinois, Indiana, Louisiana, Maryland, Massachusetts, Michigan, Minnesota, Missouri, Nevada, New York, New Jersey, North Carolina, Ohio, Pennsylvania, Tennessee, Texas, Washington, or Wisconsin) to attend a regular-season professional football game of winner's choosing. ARV of the PIGSKIN & REPLAY Prize is $3,000.

Total ARV: $50,350
Rules
Available only to legal United States residents of Alabama, Georgia, Illinois, Indiana, Iowa, Kentucky, Maryland, Michigan, Minnesota, Mississippi, Nebraska, New York, North Dakota, Ohio, Pennsylvania, South Dakota, Tennessee, and Wisconsin who are at least twenty-one years old.

There is a limit of one Game Play per person per day during the Promotion Period.
Review and Additional Information
Keyword list in rules.