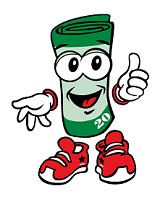 Prize Details
Prize One (11): Each prize consists of $711.00, awarded in the form of a credit to the winner's 7-Eleven e-wallet account and 365 credits (which will be credited directly to winner's 7Rewards account) each redeemable for one small Slurpee drink at participating 7-Eleven locations, ARV: $365.00. Total Prize One ARV: $1,076.00 each.

Prize Two (3): Each Ultimate Gaming prize package consists of one Xbox Series X console (ARV: $500.00), one Xbox Wireless controller (ARV: $60.00), one Tony Hawk's Pro Skater 1 +2 for Xbox Series X (ARV: $50.00) and 365 credits each redeemable for one small Slurpee drink at participating 7-Eleven locations ARV: $365.00. Total Prize Two ARV: $975.00 each.

Prize Three (1): Monster Energy is the Prize Provider of Rock Hopper Mountain Bike prize package. Each Rock Hopper Mountain Bike prize package consists of one Rock Hopper Mountain Bike ARV: $429.00 and 365 credits (which will be credited directly to winner's 7Rewards account) each redeemable for one small Slurpee drink at participating 7-Eleven locations ARV: $365.00. Total Prize Three ARV: $794.00.

Prize Four (1): The prize package consists of one of each of the following Joe Freshgoods branded items: white t-shirt ARV: $38.00; brown t-shirt ARV: $38.00; tan t-shirt ARV: $38.00; staff t-shirt ARV: $38.00; sweatpants (ARV: $90.00); black long sleeve t-shirt ARV: $45.00; white socks ARV: $18.00; brown socks ARV: $18.00; poster ARV: $10.00; sticker pack ARV: $10.00; skate deck ARV: $75.00; and, 365 credits (which will be credited directly to each winner's 7Rewards account) each redeemable for one small Slurpee drink at participating 7-Eleven locations ARV: $365.00. Total Prize Four ARV: $783.00.

Prize Five (1): The prize package consists of the opportunity for the winner to have one character created in his or her facial likeness included in a skate-themed mural on a 7-Eleven store; one framed photograph of the mural, autographed by the mural artist ARV: $150.00 and 365 credits (which will be credited directly to winner's 7Rewards account) each redeemable for one small Slurpee drink at participating 7-Eleven locations ARV: $365.00. Total Prize Five ARV: $515.00.

Prize Six (1): The prize package consists of one 7-Eleven limited-edition collector cup that has traveled to space, along with the certificate of authenticity ARV: $125.00 and 365 credits (which will be credited directly to winner's 7Rewards account) each redeemable for one small Slurpee drink at participating 7-Eleven locations ARV: $365.00. Total Prize Six ARV: $490.00.

Prize Seven (1): The prize package consists of Tom Schaar autographed skate deck ARV: $75.00 and 365 credits (which will be credited directly to winner's 7Rewards account) each redeemable for one small Slurpee drink at participating 7-Eleven locations ARV: $365.00. Total Prize Seven ARV: $440.00.

Prize Eight (1): The prize package consists of one autographed Braille skate deck, ARV: $75.00; and 365 credits (which will be credited directly to winner's 7Rewards account) each redeemable for one small Slurpee drink at participating 7-Eleven locations ARV: $365.00. Total Prize Eight ARV: $440.00.

Prize Nine (1): Prize consists of the opportunity to participate in one video call (approximately 15-minutes in length) to virtually meet Heimana Reynolds and 365 credits (which will be credited directly to winner's 7Rewards account) each redeemable for one small Slurpee drink at participating 7-Eleven locations ARV: $365.00. Total Prize Nine ARV: $365.00.

Prize Ten (1): The prize package consists of one Primitive skate deck ARV: $75.00; select Core Nutrition hydration products (ARV: $150.00); and 365 credits (which will be credited directly to winner's 7Rewards account) each redeemable for one small Slurpee drink at participating 7-Eleven locations ARV: $365.00. Total Prize Ten ARV: $590.00.

Prize Eleven (25): The prize package consists of one collectible Tervis tumbler ARV: $20.00 and 365 credits (which will be credited directly to winner's 7Rewards account) each redeemable for one small Slurpee drink at participating 7-Eleven locations ARV: $365.00. Total Prize Eleven ARV: $385.00 each.

Prize Twelve (1,000 available): Each prize consists of 11,000 7Rewards points.

CUMULATIVE MAXIMUM ARV OF ALL PRIZES: $28,803.00
Rules
Open only to legal U.S. residents physically residing in the fifty United States or the District of Columbia who are at least thirteen years of age at time of entry.

LIMIT 33 ENTRIES PER PERSON, PER DAY REGARDLESS OF THE METHOD OF ENTRY.
Review and Additional Information
Mail-In Method of Entry: To enter the Sweepstakes without completing a purchase, eligible Entrants must mail a 3" x 5" index card containing (legibly handwritten in ink) their full name, mailing address, email address, and date of birth to: Creative Zing / Take It To 11 Sweeps, PO Box 607807, Orlando, FL 32860. Each mail-in entry must be in a separate handwritten envelope and each must be mailed separately. Photocopied or mechanically reproduced envelopes or entries are not eligible. Mail-in entries must be postmarked by August 24, 2021 and received by August 30, 2021.