Friday, February 26, 2021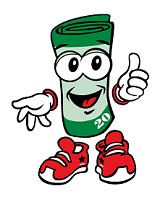 Prize Details
Up to 480 winners will each receive $1,000 in the form of a check.

Each weekday there shall be a total of (12) national opportunities for a potential winner to be awarded (1) prize of $1,000 USD as stated herein. Overall possible cash prizes to be awarded nationally throughout the Sweepstakes are 480 total.

All prizes provided by iHeartMedia + Entertainment, Inc.

ARV of each Grand Prize: $1,000

ARV of all Sweepstakes prizes: up to $480,000.

Rules
Open only to individuals who (i) are legal residents of the 50 states of the United States or the District of Columbia or Puerto Rico, (ii) who are 18 years of age (or the age of majority in the entrant's state of residence, whichever is older) at the time of entry.

Limit: (1) entry per person/phone number/email address per Designated Playtime, regardless of method of entry.
Review and Additional Information
To enter the Sweepstakes, listen to iHeartRadio.com or any participating Station for the Designated Code to be announced*. Then, timely submit the Designated Code using (1) of the following methods to receive (1) entry into the corresponding Designated Playtime:

(1) To enter the Sweepstakes by text message, during the Designated Playtime, timely text the Designated Code to 200200 to receive one (1) entry into the corresponding Designated Playtime's drawing. You must successfully text the Designated Code within the hour that such Code was announced, i.e. before :00:00 of the next hour, for your entry to be valid. You will receive at least one (1) text message in response to your entry.

FREE ALTERNATIVE METHOD OF ENTRY (AMOE):

(2) To enter the Sweepstakes without sending a text message, during the Designated Playtime, timely log in to any participating Station's website and follow the Sweepstakes links to register for the Sweepstakes by entering the Designated Code for that Designated Playtime, along with your name, email address, phone number, mailing address, date of birth, and/or any other information requested by the Sponsor. You must successfully submit the Designated Code and your registration information within the hour that such Code was announced, i.e. before 54:59:59 of the playtime hour for your entry to be valid. Complete the foregoing steps to receive (1) entry into the corresponding Designated Playtime.

Throughout the Sweepstakes Period each day and on the designated weekends a "sounder" or cue to play will be aired at various/multiple times along with a message instructing listeners to text the keyword within a specific period of time (playtime) for a chance to become a winner. Listen to the participating stations for details on specific times to play.

There will be a total of twelve (12) nationally scheduled playtimes each weekday during the Sweepstakes Period.

January 4. 2021 listen between 6:55:00 am ET and 9:54:59 pm ET / 12 playtimes
January 5, 2021 listen between 6:55:00 am ET and 9:54:59 pm ET / 12 playtimes
January 6, 2021 listen between 6:55:00 am ET and 9:54:59 pm ET / 12 playtimes
January 7, 2021 listen between 6:55:00 am ET and 9:54:59 pm ET / 12 playtimes
January 8, 2021 listen between 6:55:00 am ET and 9:54:59 pm ET / 12 playtimes
January 11, 2021 listen between 6:55:00 am ET and 9:54:59 pm ET / 12 playtimes
January 12, 2021 listen between 6:55:00 am ET and 9:54:59 pm ET / 12 playtimes
January 13, 2021 listen between 6:55:00 am ET and 9:54:59 pm ET / 12 playtimes
January 14, 2021 listen between 6:55:00 am ET and 9:54:59 pm ET / 12 playtimes
January 15, 2021 listen between 6:55:00 am ET and 9:54:59 pm ET / 12 playtimes
January 18, 2021 listen between 6:55:00 am ET and 9:54:59 pm ET / 12 playtimes
January 19, 2021 listen between 6:55:00 am ET and 9:54:59 pm ET / 12 playtimes
January 20, 2021 listen between 6:55:00 am ET and 9:54:59 pm ET / 12 playtimes
January 21, 2021 listen between 6:55:00 am ET and 9:54:59 pm ET / 12 playtimes
January 22, 2021 listen between 6:55:00 am ET and 9:54:59 pm ET / 12 playtimes
January 25, 2021 listen between 6:55:00 am ET and 9:54:59 pm ET / 12 playtimes
January 26. 2021 listen between 6:55:00 am ET and 9:54:59 pm ET / 12 playtimes
January 27, 2021 listen between 6:55:00 am ET and 9:54:59 pm ET / 12 playtimes
January 28, 2021 listen between 6:55:00 am ET and 9:54:59 pm ET / 12 playtimes
January 29, 2021 listen between 6:55:00 am ET and 9:54:59 pm ET / 12 playtimes
February 1, 2021 listen between 6:55:00 am ET and 9:54:59 pm ET / 12 playtimes
February 2, 2021 listen between 6:55:00 am ET and 9:54:59 pm ET / 12 playtimes
February 3, 2021 listen between 6:55:00 am ET and 9:54:59 pm ET / 12 playtimes
February 4, 2021 listen between 6:55:00 am ET and 9:54:59 pm ET / 12 playtimes
February 5, 2021 listen between 6:55:00 am ET and 9:54:59 pm ET / 12 playtimes
February 8, 2021 listen between 6:55:00 am ET and 9:54:59 pm ET / 12 playtimes
February 9, 2021 listen between 6:55:00 am ET and 9:54:59 pm ET / 12 playtimes
February 10, 2021 listen between 6:55:00 am ET and 9:54:59 pm ET / 12 playtimes
February 11, 2021 listen between 6:55:00 am ET and 9:54:59 pm ET / 12 playtimes
February 12, 2021 listen between 6:55:00 am ET and 9:54:59 pm ET / 12 playtimes
February 15, 2021 listen between 6:55:00 am ET and 9:54:59 pm ET / 12 playtimes
February 16, 2021 listen between 6:55:00 am ET and 9:54:59 pm ET / 12 playtimes
February 17, 2021 listen between 6:55:00 am ET and 9:54:59 pm ET / 12 playtimes
February 18, 2021 listen between 6:55:00 am ET and 9:54:59 pm ET / 12 playtimes
February 19, 2021 listen between 6:55:00 am ET and 9:54:59 pm ET / 12 playtimes
February 22, 2021 listen between 6:55:00 am ET and 9:54:59 pm ET / 12 playtimes
February 23, 2021 listen between 6:55:00 am ET and 9:54:59 pm ET / 12 playtimes
February 24, 2021 listen between 6:55:00 am ET and 9:54:59 pm ET / 12 playtimes
February 25, 2021 listen between 6:55:00 am ET and 9:54:59 pm ET / 12 playtimes
February 26, 2021 listen between 6:55:00 am ET and 9:54:59 pm ET / 12 playtimes