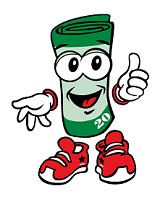 Prize Details
Members, 2020 has been one of the strangest years ever for ST and in general. The Covid-19 virus has been stressful for all and fatal to many. My sincere condolences to all who have lost family, friends and love ones to the virus.

As many of you have noticed, the virus has had a massive effect on business, advertising and for you, the sweepstakes hobby. We are at record lows for the total number of active sweeps and the ARV dollar amount has never been this low for the beginning of June. I have been following the business and advertising news and don't expect the a fair return for several more months. What I am hoping for is higher ARV prizes and sweeps.

As a result, advertising revenue has dropped to dangerous lows levels for many publishers and not just ST. You might see a few more MySaving.com offers.

Many of you have viewed ST as a online sweepstakes website. True. However I have views ST as a targeted search engine. While this difference might sound minor, from a business standpoint, it is big. In either case, Mr. Sweepy is a direct competitor for business with Google. This is just not a David verse Goliath but to a magnitude of 100. Mr. Sweepy has recuited the help of both the FTC first and this has been moved to the Department of Justice today. There is a active antitrust case over anti-competitive actions on the part of Google.

Google has been for sending me emails stating that ST is an "online gambling" website. By federal law, gaming is stated into Class 1 to Class 4. All require an act of betting or wagering to be call gambling. Nothing on ST or the advertising by sponsors has nothing to do with this. Our sweeps are free to enter.

If you desire to make your voice to be heard, you can go to the Department of Justice - Antitrust website:
https://www.justice.gov/atr/contact-information
or
email them at: antitrust.atr@usdoj.gov

If you want to go a step farter, contact your US Senators and Congressman on behalf of Sweepstakestoday.com.

My goal is to keep our hobby free of cost and in being fair to the advertisers and sponsors. If this happens, then all will be happier.

Rules
Review and Additional Information
N/A