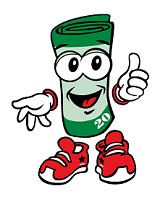 Prize Details
Each Weekly Prize Winner will win the following: (i) a YETI Hopper Flip 12 Soft Cooler; (ii) a Gold Rush Tumbler; (iii) a Lego Technic Volvo Concept Wheel Loader Zeux; (iv) a Gold Rush beanie; and (v) a Gold Rush t-shirt.
ARV of each Weekly Prize: $428.

ARV of all prizes: $8,988.
Rules
Promotion is open only to legal residents of the 50 United States and D.C. who are 21 years of age or older of as of the Promotion start date.

Limit of (1) entry per eligible person, per day.

Review and Additional Information
Entry Periods: Start Time/Date End Time/Date Drawing Date
Drawing #1: 5:00 p.m. ET on 10/11/19 - 11:59 p.m. ET on 10/17/19 10/18/19
Drawing #2: 12:00 a.m. ET on 10/18/19 - 11:59 p.m. ET on 10/24/19 10/25/19
Drawing #3: 12:00 a.m. ET on 10/25/19 - 11:59 p.m. ET on 10/31/19 11/1/19
Drawing #4: 12:00 a.m. ET on 11/1/19 - 11:59 p.m. ET on 11/7/19 11/8/19
Drawing #5: 12:00 a.m. ET on 11/8/19 - 11:59 p.m. ET on 11/14/19 11/15/19
Drawing #6: 12:00 a.m. ET on 11/15/19 - 11:59 p.m. ET on 11/21/19 11/22/19
Drawing #7: 12:00 a.m. ET on 11/22/19 - 11:59 p.m. ET on 11/28/19 11/29/19
Drawing #8: 12:00 a.m. ET on 11/29/19 - 11:59 p.m. ET on 12/5/19 12/6/19
Drawing #9: 12:00 a.m. ET on 12/6/19 - 11:59 p.m. ET on 12/12/19 12/13/19
Drawing #10: 12:00 a.m. ET on 12/13/19 - 11:59 p.m. ET on 12/19/19 12/20/19
Drawing #11: 12:00 a.m. ET on 12/20/19 - 11:59 p.m. ET on 12/26/19 12/27/19
Drawing #12: 12:00 a.m. ET on 12/27/19 - 11:59 p.m. ET on 1/2/20 1/3/20
Drawing #13: 12:00 a.m. ET on 1/3/20 - 11:59 p.m. ET on 1/9/20 1/10/20
Drawing #14: 12:00 a.m. ET on 1/10/20 - 11:59 p.m. ET on 1/16/20 1/17/20
Drawing #15: 12:00 a.m. ET on 1/17/20 - 11:59 p.m. ET on 1/23/20 1/24/20
Drawing #16: 12:00 a.m. ET on 1/24/20 - 11:59 p.m. ET on 1/30/20 1/31/20
Drawing #17: 12:00 a.m. ET on 1/31/20 - 11:59 p.m. ET on 2/6/20 2/7/20
Drawing #18: 12:00 a.m. ET on 2/7/20 - 11:59 p.m. ET on 2/13/20 2/14/20
Drawing #19: 12:00 a.m. ET on 2/14/20 - 11:59 p.m. ET on 2/20/20 2/21/20
Drawing #20: 12:00 a.m. ET on 2/21/20 - 11:59 p.m. ET on 2/27/20 2/28/20
Drawing #21: 12:00 a.m. ET on 2/28/20 - 5:00 p.m. ET on 3/6/20 3/9/20