Saturday, September 28, 2019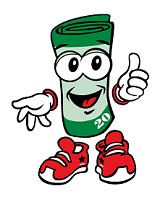 Prize Details
NATIONAL GRAND PRIZE WINNER:

• One (1) grand prize (the "Grand Prize") winner will receive:

o Roundtrip economy class airfare for the Prizewinner and one (1) guest to the greater Los Angeles area (in the event that the Prizewinner is two hundred (200) miles or less from the greater Los Angeles area, Sponsor reserves the right, in its sole discretion, to provide ground transportation in lieu of air travel and/or provide a One Thousand Dollar ($1,000) Visa gift card to the Prizewinner and the difference in value will not be awarded to the Grand Prize winner). Terms and conditions of the Visa gift card will apply.

o Standard hotel accommodations in the greater Los Angeles area for two (2) nights for the Prizewinner and one (1) guest (one (1) standard room based on double occupancy)

o Two (2) tickets for the Warner Bros. Studio Tour

o Ground transportation for Prizewinner and one (1) guest to and from the airport in the greater Los Angeles area to the hotel

o "2 Broke Girls" gift bag with items to be determined by Sponsor in Sponsor's sole discretion

o One (1) Two Hundred and Fifty Dollar ($250) gift card or cash or cash equivalent (as determined by Sponsor in Sponsor's sole discretion)

o One (1) One Hundred Dollar ($100.00) gift card to Johnny Rockets. Terms and conditions of the Johnny Rockets gift card will apply.

Approximate Retail Value ("ARV") of the Grand Prize: Three Thousand Five Hundred Fifty Dollars (US $3,550.00)


NATIONAL DAILY RUNNER-UP PRIZE WINNERS:

• One (1) prize winner per day (the "Daily Prize Winner") of the Sweepstakes Period will receive:

o One (1) Five Hundred Dollar ($500) gift card or cash or cash equivalent (as determined by Sponsor in Sponsor's sole discretion)

ARV of each National Daily Runner-Up Prize: Five Hundred Dollars (US $500.00).

Total ARV of Daily Runner-Up Prizes: Seven Thousand Five Hundred Dollars (US $7,500.00).


ADDITIONAL RUNNER-UP PRIZE WINNERS:

• Fifty (50) prize winners (the "Additional Runner-Up Prize Winners") of the Sweepstakes Period will receive:

o One (1) One Hundred Dollar ($100.00) gift card to Johnny Rockets. Terms and conditions of the Johnny Rockets gift card will apply.

ARV of each Additional Runner-Up Prize: One Hundred Dollars (US $100.00).

Total ARV of Additional Runner-Up Prizes: Five Thousand Dollars (US $5,000.00).

TOTAL ARV OF ALL PRIZES: Sixteen Thousand Fifty Dollars ($16,050.00)
Rules
Open only to individuals who meet the following criteria at the time and date of entry: (a) are at least eighteen (18) years of age (or age of majority in their jurisdiction of residence, whichever is older), (b) who (only applicable if using text method of entry) have a registered wireless account with Short Message Services ("SMS") capability and/or wireless internet service, and (c) are a legal resident of and physically residing in one of the 50 United States or the District of Columbia (excluding Puerto Rico, Guam, American Samoa, United States territories, possessions, protectorates, foreign based United States military installations, and wherever restricted or prohibited by law).

Entrants are limited to one (1) original entry per weekday via the SMS Text Entry method, one (1) original entry per weekday via the Online Entry method, one (1) bonus entry during the Sweepstakes Period for the 'Share on Twitter' entry method, and a total of one-hundred fifty (150) bonus entries during the Sweepstakes Period via the Sweepstakes Share Bonus Entry method, for a maximum total of one-hundred and eighty-one (181) entries per Entrant.
Review and Additional Information
Watch syndicated episodes of "2 BROKE GIRLS" (the "Show") weekdays during the Sweepstakes Period (check your local listing for time of broadcast). During each broadcast of the syndicated episode of the Show during the Sweepstakes Period an entry word will appear on screen (the "Shake of the Day").

Entrant must then enter the correct Shake of the Day during the broadcast day. A broadcast day is the period of time which begins at 6:00:01 a.m. PT on any given weekday and continues until 5:59:59 a.m. PT the next calendar day (the "Broadcast Day"). The applicable Shake of the Day will be valid during the Sweepstakes Period only for the Broadcast Day on which the applicable episode of the Show aired. An incorrect Shake of the Day will disqualify an Entrant's entry from being included in the applicable Prize drawing. If the Show did not feature a Shake of the Day, you may enter by typing "None" in the appropriate field of the entry form for that Broadcast Day's entry.