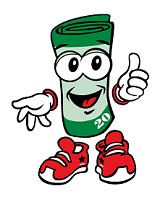 Prize Details
PRIZES:
Daily Prizes: A total of (10) Daily prizes. Each Daily Prize winner will receive:
$500 to be awarded in the form of a check or Visa Gift Card.
Total ARV of Daily Prizes is $5,000.

Grand Prize: Grand Prize winner will receive:
A one-time lump sum payment of $5,000 to be awarded in the form of a check made payable to the Grand Prize winner.
The chance to win $2,000,000. Odds are 1 in 100.
Grand Prize winner will be given the opportunity to select one envelope from among 100 envelopes provided by Sponsor at a Grand Prize Event.
Event location may be in winner's hometown or at an EHM Production location in Los Angeles, CA, to be determined at Sponsor's sole discretion.
If the envelope selected by the Grand Prize winner reveals or states "You Win Two Million Dollars", $2,000,000 will be awarded to the Grand Prize winner in one of the following methods:
(a) an annual annuity of $50,000 for 40 years;
(b) the purchase of a single premium deferred annuity, from an A.M.
Best rated "B" or better Legal Reserve Life Insurance Company of $50,000 over 40 years; or (c) the purchase of any other investment grade funding vehicle or financial instrument.
Event trip is estimated at $2,500 and may include roundtrip economy class airfare for the Prize winner and up to one guest to the greater Los Angeles area, hotel accommodations for two nights (one room/double occupancy). Winner may also receive social media recognition from "TMZ" talent and/or a story on TMZ.com related to Winner. If Prize winner lives within a 200 mile radius of Event location, air transportation may be substituted with another method of transportation.
ARV of the Grand Prize (Check and Trip): $7,500.
In the event the Grand Prizewinner selects the winning envelope, Prizewinner will win $2,000,000, PAID OUT IN A 40-YEAR ANNUITY (current annuity value approximately $1,160,000, the value of the annuity is subject to market rates at the time of distribution). The $2,000,000 annuity, if awarded, will be paid by Everest National Insurance Company. IF THE ENTRANT DOES NOT SELECT THE WINNING ENVELOPE, THE $2,000,000 ANNUITY WILL NOT BE AWARDED.
Total maximum value of all prizes available $2,012,500.
Rules
Open to individuals who meet the following criteria: are eighteen years of age (or age of majority in their jurisdiction of residence) or older, and are a legal resident of and currently physically residing in one of the 50 United States or the District of Columbia.

Entries are accepted on weekdays only during the Sweepstakes Period. Limit of two entries per person per day, regardless of method of entry.

Review and Additional Information
Entry available only on weekdays Monday through Friday.

Each week day will air a new Word of the Day. An incorrect Word of the Day will disqualify an Entrant's entry from being included in the Daily Prize drawing.