Monday, February 11, 2019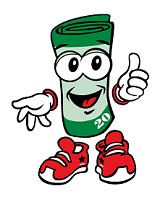 Prize Details
Grand Prize: The Grand Prize Winner will win the following (the "Grand Prize"): a trip for two (2) to a to-be-determined shoot location, consisting of: (i) round-trip coach class airfare for Grand Prize Winner and one (1) guest to and from the shoot location from the major U.S. airport nearest Grand Prize Winner's residence within the 48 contiguous U.S.; (ii) three (3) days/two (2) nights hotel accommodations (one room, double occupancy, room rate and tax only) (details to be determined in Sponsor's sole discretion); (iii) access to the set of the shoot location, (iv) airport transfers to/from the airport; and (v) $500 spending money. Approximate retail value ("ARV") of the Grand Prize: $2,840.

Weekly Prizes: Each Weekly Prize Winner will win their choice of one (1) of the following (the "Weekly Prize"): (i) a personalized voicemail from Joe Kenda; (ii) a prize pack of Homicide Hunter merchandise (details determined in Sponsor's sole discretion); or (iii) a $100 gift card. ARV of each Weekly Prize: up to $120. ARV of all Weekly Prizes: up to $2,160.

ARV of all prizes: $5,000.
Rules
Open only to legal residents of the contiguous 48 United States and D.C. who are 21 years of age or older as of the Promotion start date. Void in Alaska, Hawaii and where prohibited.

Limit of one (1) entry per eligible person, per Entry Period, during the Promotion Period.
Review and Additional Information
At the beginning of each Entry Period, eligible entrants must tune in to Investigation Discovery and take note of the code word ("Code Word") that will appear on the screen at various times during the 10:00 p.m. ET to 11:00 p.m. ET hour (except code will appear from 8:00 p.m. ET to 9:00 p.m. ET on 1/2/19) on the first day of each Entry Period, (during shows (via snipes) and during commercial breaks). Then, during such applicable Entry Period, visit the Investigation Discovery website (www.investigationdiscovery.com/kenda) (the "Website") and follow the instructions to complete all required information on the registration form, provide the correct Code Word for the applicable Entry Period, and submit the online entry form. Incomplete entries will not be eligible, but entries featuring an incorrect Code Word will still be accepted. All entries must be received during an Entry Period to be eligible for the applicable weekly drawing and the Grand Prize drawing.

Entry Periods Start Time/Date End Time/Date Drawing Date

Drawing #1 10:00 p.m. ET on 8/29/18 9:59:59 p.m. ET on 9/2/18 9/3/18

Drawing #2 10:00 p.m. ET on 9/5/18 9:59:59 p.m. ET on 9/9/18 9/12/18

Drawing #3 10:00 p.m. ET on 9/12/18 9:59:59 p.m. ET on 9/16/18 9/17/18

Drawing #4 10:00 p.m. ET on 9/19/18 9:59:59 p.m. ET on 9/23/18 9/24/18

Drawing #5 10:00 p.m. ET on 9/26/18 9:59:59 p.m. ET on 9/30/18 10/1/18

Drawing #6 10:00 p.m. ET on 10/3/18 9:59:59 p.m. ET on 10/7/18 10/8/18

Drawing #7 10:00 p.m. ET on 10/10/18 9:59:59 p.m. ET on 10/14/18 10/1/18

Drawing #8 10:00 p.m. ET on 10/17/18 9:59:59 p.m. ET on 10/24/18 10/25/18

Drawing #9 10:00 p.m. ET on 10/24/18 9:59:59 p.m. ET on 10/28/18 10/29/18

Drawing #10 10:00 p.m. ET on 11/7/18 9:59:59 p.m. ET on 11/11/18 11/12/18

Drawing #11 10:00 p.m. ET on 11/14/18 9:59:59 p.m. ET on 11/18/18 11/19/18

Drawing #12 10:00 p.m. ET on 11/21/18 9:59:59 p.m. ET on 11/25/18 11/26/18

Drawing #13 10:00 p.m. ET on 12/5/18 9:59:59 p.m. ET on 12/9/18 12/10/18

Drawing #14 8:00 p.m. ET on 1/2/19 9:59:59 p.m. ET on 1/6/19 1/7/19

Drawing #15 10:00 p.m. ET on 1/9/19 9:59:59 p.m. ET on 1/13/19 1/14/19

Drawing #16 10:00 p.m. ET on 1/16/19 9:59:59 p.m. ET on 1/20/19 1/21/19

Drawing #17 10:00 p.m. ET on 1/23/19 9:59:59 p.m. ET on 1/27/19 1/28/19

Drawing #18 10:00 p.m. ET on 1/30/19 9:59:59 p.m. ET on 2/3/19 2/4/19

Grand Prize Drawing 10:00 p.m. ET on 2/6/19 10:00 p.m. ET on 2/10/19 2/11/19