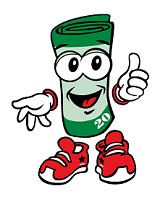 Prize Details
ON-CUP INSTANT PRIZES:
Free Bagel w/ Cream Cheese Spread 630,000 $2.45 $1,543,500.00
Free Muffin 1,890,000 $1.74 $3,288,600.00
Free Wake-up-Wrap 1,890,000 $1.68 $3,175,200.00
Free Classic Donut 4,410,000 $1.11 $4,895,100.00
Free Order of Hash Browns 1,260,000 $0.97 $1,222,200.00
Free Medium Hot or Iced Coffee 630,000 $2.24 $1,411,200.00
Free Medium Cold Brew 630,000 $3.12 $1,965,600.00
$10 Dunkin' Donuts Card 19,510 $10.00 $195,100.00
$25 Dunkin' Donuts Card 5,000 $25.00 $125,000.00
$100 Dunkin' Donuts Card 1,500 $100.00 $150,000.00
Coffee For a Year ($598 in Dunkin' Donuts Cards) 100 $598.00 $59,800.00
One pair of JetBlue travel certificates on JetBlue operated flights for roundtrip airfare. 25 $598.00 $14,950.00
Keurig - Free - K-Mini Plus Coffee Maker 100 $99.00 $9,900.00
2 Movie tickets from Fandango (Up to $25 total ARV) 40 $25.00 $1,000.00
A pair of movie tickets each month for 1 year from Fandango ($300 promo code) 10 $300.00 $3,000.00

Non-Winning Discounts/Offers also offered.



Rules
Open only to U.S. residents currently residing in the fifty United States or District of Columbia; who are at least thirteen years of age at the time of play.

There is no limit to the number of Game Pieces each person may receive per day or during the Promotion Period via purchase method.

Review and Additional Information
Purchase a Large or Extra-Large Beverage, excluding hot espresso-based beverages (except in California and Hawaii, where hot espresso-based beverages are included), you will receive one Game Piece attached to the outside of the cup of each Eligible Product purchased or manually provided by crew member after eligible purchase is made, while supplies last.

NON-PURCHASE METHOD: to receive a Game Piece, during the Promotion Period, while supplies of Game Pieces last, you may mail a handwritten, self-addressed, stamped envelope with a note requesting one Game Piece, along with a statement that you are 13 years of age or older, and agree to these Official Rules in an envelope with proper postage to: Dunkin' Donuts On-Cup Instant Win Game Piece Request, SPW Fulfillment, 703 Union St., Ashland, OH 44805. Envelopes must be postmarked no later than 10/15/18 and received by 10/22/18. There is no limit on the number of requests a person can make per day or during the Promotion Period via this method, but there is a limit of one Game Piece request per stamped outer envelope.